About Us
Find out more about our instructors below.
Chris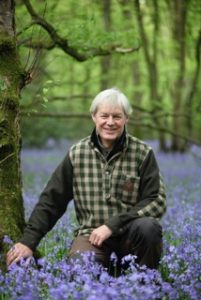 Down in the Woods Ltd is run by Christopher Pryke.
Christopher was born in North London and moved to the Surrey countryside when he was 8. It was there that his interest in nature started by spending many hours walking, building camps and watching wildlife. Little did he know what a lasting effect this would have.
Christopher's out door training and interest continued with the Air Cadets and the Duke of Edinburgh's Award. He obtained Bronze, Silver and Gold awards by the age of 17.
Christopher believes that Bushcraft is the practical process of learning from the environment you find yourself in, adapting the knowledge and training you have to it and living comfortably in it by becoming part of that environment. Bushcraft is not all about carrying round big knives but using the appropriate tool for the job at hand in a safe manner whilst ensuring that as little impact is made on the land as possible.
Christopher volunteered as an Assistant Ranger on Frensham common and then went on to gain formal qualifications in Applied Biology specializing in plant sciences and Horticulture from N.E.S.C.O.T and Merrist Wood respectively. Christopher has continued his training with a "Forest School Level 3 Qualification from Bridgwater college "and the "Level 4 Certificate in Bushcraft Leadership" with John Ryder's "Woodcraft School" in West Sussex.
Christopher has The "Countryside Leaders Award-CLA", and is an "Approved Activity Provider" for Both Expeditions and Residential Bushcraft courses for the D of E Scheme. I also have qualifications as a "First Responder in Remote First Aid", "Enhanced D.B.S", "Safeguarding" and last but not least "Food Safety Level 2" in Catering. In the coming year he will be training to become an Expedition Leader and Assessor for the D of E Award and also entering the additional work to take the Bushcraft Qualification to Level 5 with the NCFE.
Dylan
Dylan is a level 4 Bushcraft instructor who passed the Instructor course at the John Ryder Woodcraft school.
He has been a instructor of outdoor pursuits for twenty years in various centers around Britain and the world instructing in, kayaking, canoeing, caving, mountain biking and archery. Dylan's start in Bushcraft was self taught around 10 years ago and he then decided to formalize his training with The Woodcraft School 3 years ago. He now to teaches Bushcraft to groups of adults and children over a wide range of topics.
Adrian
Adrian is a level 4 Bushcraft Instructor also qualifying with John Ryder's Woodcraft School. Adrian's specialism is working with young people with additional needs and challenging behavior. Adrian works with the young people to enrich their experiences and help them gain in confidence and self-esteem. He has a love of the natural world, wood and bush craft skills and through the forest- school ethos of, "student-centered, student-lead learning".
In addition to his ability to work well with young people with special needs Adrian's speciality is woodland plants and trees.
Peter
Peter has been working closely with us since passing his NCFE Advance Bushcraft level 3 and attaining his NCFE Certificate in Bushcraft Leadership level 4 in 2011. He enjoys delivering courses to both young and older, helping them to discover the Fauna & flora of the English woodlands.
Peter also runs his own courses and birthday party events as well as supporting a number of other bushcraft companies though his regular volunteering to help keep his skills current and further his own education. When not out in the woods he competes as an amateur horse event rider.