About Us
Find out more about our instructors below.
Chris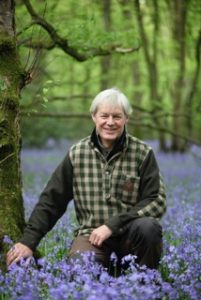 Down in the Woods Ltd is run by Christopher Pryke.
Christopher was born in North London and moved to the Surrey countryside when he was 8. It was there that his interest in nature started by spending many hours walking, building camps and watching wildlife. Little did he know what a lasting effect this would have.
Christopher's out door training and interest continued with the Air Cadets and the Duke of Edinburgh's Award. He obtained Bronze, Silver and Gold awards by the age of 17.
Christopher believes that Bushcraft is the practical process of learning from the environment you find yourself in, adapting the knowledge and training you have to it and living comfortably in it by becoming part of that environment. Bushcraft is not all about carrying round big knives but using the appropriate tool for the job at hand in a safe manner whilst ensuring that as little impact is made on the land as possible.
Christopher volunteered as an Assistant Ranger on Frensham common and then went on to gain formal qualifications in Applied Biology specializing in plant sciences and Horticulture from N.E.S.C.O.T and Merrist Wood respectively. Christopher has continued his training with a "Forest School Level 3 Qualification from Bridgwater college "and the "Level 4 Certificate in Bushcraft Leadership" with John Ryder's "Woodcraft School" in West Sussex.
Christopher has the "Countryside Leaders Award-CLA" which allows Down in the woods to be an "Approved Activity Provider" for The Expedition section and Expedition Leader at Bronze and Silver level. For the 2019 season he will be an accredited D of E Award Assessor and will be able to assess Bronze, Silver and Gold Expeditions all over the UK. He is currently logging hours for the Hill and Moreland Leaders Award (HML).The HML will allow him to train candidates for Expeditions at Gold level in wild country.
Christopher also has up to date First Aid, Safeguarding,Food Safety level 2 in catering and an "Enhanced D.B.S" check.
Yara
Yara is a Bushcraft, Survival & Archery Instructor, Presenter, Public Speaker, Environmental Campaigner and Creative Media Artist.
Yara first encountered tribal communities in Indonesia and spent time living with the Mentawai tribe whilst traveling at 19. Living with rainforest communities changed her life path and Yara began a journey; learning about the skills of self-sufficient cultures that depend on natural environments to survive.
When living with indigenous cultures in Borneo; Yara learned to survive in the rainforest using only a machete by adopting valuable skills from remote rainforest communities.
She spent time with Shamans in the Amazon rainforest in Peru studying medicinal plants and has a strong connection to woodland and rainforest environments.
These days, Yara teaches Bushcraft & Survival skills to both young people and adults in the UK and internationally.
As an ambassador for the Woodland Trust the UK's leading woodland conservation organisation. Yara campaigns for the protection, preservation, regeneration and restoration of trees and woodlands and promotes tree-planting projects to schools and communities.
Having founded the Natural Healing Show on UK Health Radio, a platform raising awareness on natural health and the environment. Yara is a big advocate on the physical & mental health benefits of spending time around trees, woodlands and nature.
She was featured in the Bushcraft & Survival Skills Magazine Sept 2017 issue on 'Women in the Wild' and presented The Bushcraft Show 2018, introducing guest speakers Ed Stafford and John Lofty Wiseman.
Yara has appeared on ITV News speaking about the importance of having a positive mental attitude in survival psychology.
Yara's love for trees and the natural world encourages others to embrace new experiences and to 'step outside of the comfort zone' to accomplish goals; to become self-reliant and feel self-empowered in the outdoors.
Dylan
Dylan is a level 4 Bushcraft instructor who passed the Instructor course at the John Ryder Woodcraft school.
He has been a instructor of outdoor pursuits for twenty years in various centers around Britain and the world instructing in, kayaking, canoeing, caving, mountain biking and archery. Dylan's start in Bushcraft was self taught around 10 years ago and he then decided to formalize his training with The Woodcraft School 3 years ago. He now to teaches Bushcraft to groups of adults and children over a wide range of topics.
Adrian
Adrian is a level 4 Bushcraft Instructor also qualifying with John Ryder's Woodcraft School. Adrian's specialism is working with young people with additional needs and challenging behavior. Adrian works with the young people to enrich their experiences and help them gain in confidence and self-esteem. He has a love of the natural world, wood and bush craft skills and through the forest- school ethos of, "student-centered, student-lead learning".
In addition to his ability to work well with young people with special needs Adrian's speciality is woodland plants and trees.